Back
Marine Closed "Freshwater" Cooling Systems
Marine Closed "Freshwater" Cooling systems is a bit of a misnomer as they do not actually circulate freshwater but an antifreeze/water mixture. Unlike in a car where the antifreeze/water circulates through an air-cooled radiator, a closed cooling system uses lake or ocean water flowing through a heat exchanger to remove heat from the engines cooling water/antifreeze mixture.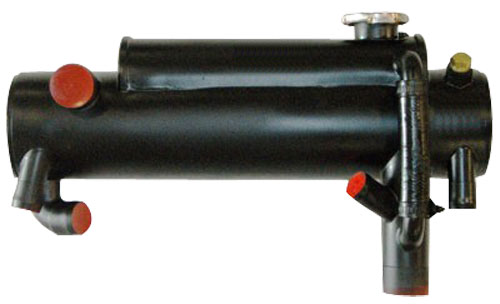 A Typical Heat Exchanger
The Heat Exchanger
The heat exchanger is the heart of the closed cooling system. It uses raw lake or ocean water brought in from the raw water pump to act as coolant for the engines circulating water. The circulating water runs in a closed loop through the engine only in a half system and in a full system, the exhaust manifold as well. The heat exchanger acts as a radiator does in an automobile, however rather than air the raw water is used for cooling the circulating water. The raw water is brought in an pumped through several small tubes inside the heat exchanger, this tubes will absorb and exchange the heat from the circulating water surrounding them and will exit the heat exchanger towards the exhaust risers to be dumped overboard. The hot circulating water runs thru the heat exchanger on different lines exchanging its heat thru the cooling tubes and exiting the heat exchanger back towards the circulating pump and the block. We carry a number of replacement heat exchanger tanks for a variety of stock applications:
The Expansion Tank
Sometimes attached to the heat exchanger itself, sometimes mounted remotely, this tank is a very important part of a closed cooling system. As the engines water coolant gets hot it will expand, increasing in volume. This water needs somewhere to go and the expansion tank is a tank that provides room for this hot water to expaned into. We carry a couple stock replacement expansion tanks here.
The Half System (Engine Block Only)
The half closed cooling system is designed to circulate cooling water through the block only. As shown in the diagram below, raw water is picked up through the drive pickup or through a hull mounted pickup, if present it will pass through a sea strainer to clean debris out of the water. From there it will pass through the raw water pump. The raw water will be used with your Engine Oil and Power Steering Coolers as they will not be part of the closed circulating system. From Here the raw water will be passed into the heat exchanger tank and be pumped through many small tubes where it will exchange heat from the circulating systems water. The raw water then exits the heat exchanger to go through the manifold, into the riser and then exit the boat. As for the circulating water in closed cooling system, cool water will enter the engine through the circulating pump and circulate through the engine. Hot water will exit at the water outlet on top of the manifold and head to the heat exchanger to exchange the heat it's carrying with the raw water. After the exchange the cool circulating water exits the heat exchanger and returns to circulating pump to begin another loop. See below for a diagram of the half system operation:
Typical Plumbing for a Half System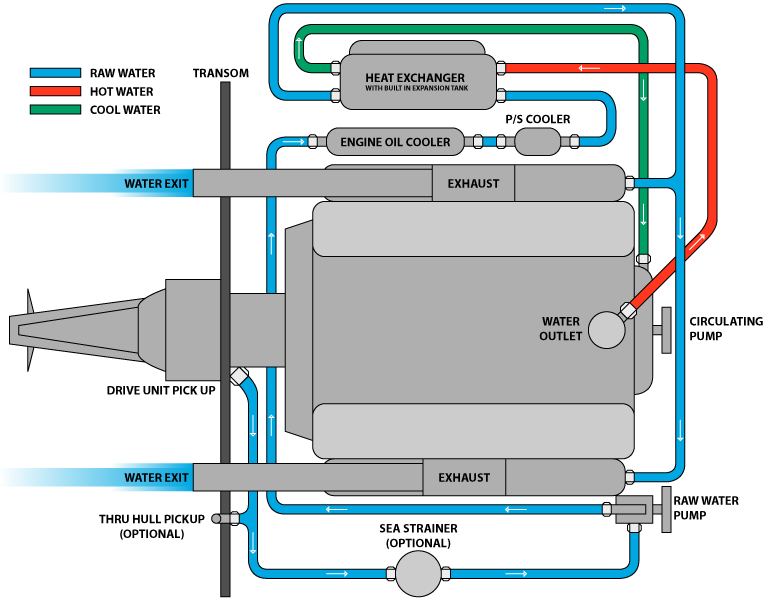 The Full System (Engine Block and Exhaust Manifolds)
The full closed cooling system is designed to circulate cooling water through the block and exhaust maniolds. As shown in the diagram below, raw water is picked up through the drive pickup or through a hull mounted pickup, if present it will pass through a sea strainer to clean debris out of the water. From there it will pass through the raw water pump. The raw water will be used with your Engine Oil and Power Steering Coolers as they will not be part of the closed circulating system. From Here the raw water will be passed into the heat exchanger tank and be pumped through many small tubes where it will exchange heat from the circulating systems water. The raw water then exits the heat exchanger to go directly into the risers and then exit the boat. The exhaust manifold and riser will be blocked off, so no water will transfer between them. As for the circulating water in closed cooling system, cool water will enter the engine through the circulating pump and circulate through the engine. The water will heat up in the engine and the warm water will exit at the water outlet on top of the manifold and head to the manifolds. After circulating through the manifolds, the hot water will head to the heat exchanger to exchange the heat it's carrying with the raw water. After the exchange the cool circulating water exits the heat exchanger and returns to circulating pump to begin another loop. See below for a diagram of the full system operation:
Typical Plumbing for a Full System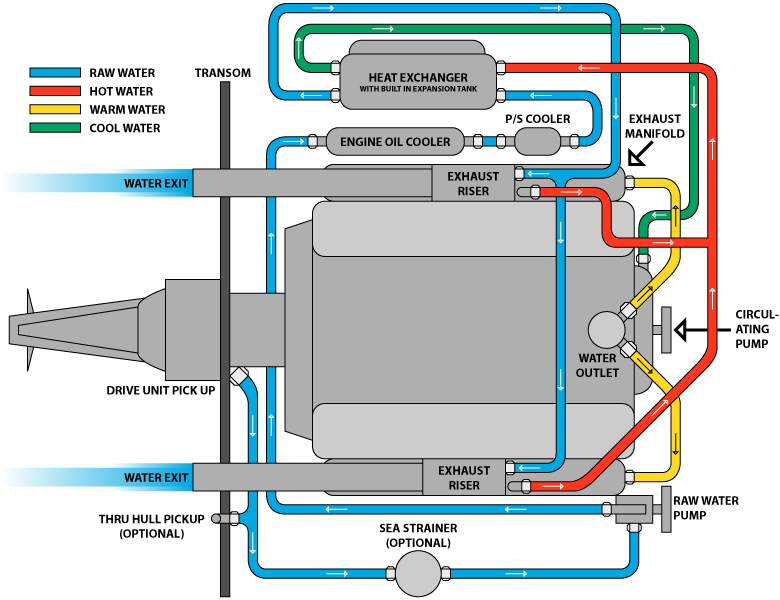 Application Guide
Application

Half System

Full System

Chevy LS up to 650 CID
LS1, LS2, LS3 and LS6 Closed Cooling Kit - Copper / Brass
N/A
Big Block Chevy up to 650 CID
Big Block Chevy Engine Only Closed Cooling Kit Up To 650HP - Copper / Brass
Big Block Chevy Full Closed Cooling Kit Up To 650HP - Copper / Brass
Big Block Chevy to 500 CID
Mercruiser Applications
Closed Cooling System, Mercruiser - 120/140 Engine 3.0L Chevy 1968-Present, Half-System
Closed Cooling System, Mercruiser - 3.0L LX Chevy 1997-1999, Half-System
Closed Cooling System, Mercruiser - 3.0L LX Chevy 2000-2004, Half-System
Closed Cooling System, Mercruiser - 3.0L LX Chevy 2005-2012, Half-System
Closed Cooling System, Mercruiser - 4.3/5.0/5.7/6.2L Chevy 2002-2012, MPI, Magnum, Dry Joint, Half-System
Closed Cooling System, Mercruiser - 4.3/5.0/5.7/6.2L Chevy 2002-2012, MPI, Magnum, Half-System
Closed Cooling System, Mercruiser - 4.3/5.0/5.7L Chevy 1982 & Up, Half-System
Closed Cooling System, Mercruiser - 4.3/5.0/5.7L Chevy 1985-1995, Half-System
Closed Cooling System, Mercruiser - 4.3/5.0/5.7L Chevy 1994-1996, Alpha & Bravo, Half-System
Closed Cooling System, Mercruiser - 4.3/5.0/5.7L Chevy 2002 only,Carbureted, Half-System
Closed Cooling System, Mercruiser - 4.3/5.0/5.7L Chevy 2002-2012, Carbureted, Half-System
Closed Cooling System, Mercruiser - 4.3/5.0/5.7L EFI 350 Engine Chevy 2000-2001, EFI, Half-System
Closed Cooling System, Mercruiser - 4.3/5.0/5.7L V-8 Chevy 1997-2001, Half-System
Closed Cooling System, Mercruiser - 4.3L LXH Chevy 1996-1999, Half-System
Closed Cooling System, Mercruiser - 5.7 EFI 350 Chevy 1996, 350 magnum MPI, Half-System
Closed Cooling System, Mercruiser - 5.7 EFI 350 Engine Chevy 1994-1995, MPI, Alpha and Bravo, Half-System
Closed Cooling System, Mercruiser - 5.7L EFI 350 Chevy 1997-2001, MPI, Half-System
Closed Cooling System, Mercruiser - 7.4L LX Chevy 1998/2001, MPI, Half-System

Closed Cooling System, Mercruiser - 165 Engine Chevy, Full-System
Closed Cooling System, Mercruiser - 188/233 Ford, Full-System
Closed Cooling System, Mercruiser - 225/228/305/350 Engine Chevy, Full-System
Closed Cooling System, Mercruiser - 330/454 Engine Chevy 1982-1992, Full-System
Closed Cooling System, Mercruiser - 330/454 Engine Chevy through 1981, Full-System
Closed Cooling System, Mercruiser - 4.3/5.0/5.7L Chevy 1997-1999, Full-System
Closed Cooling System, Mercruiser - 4.3/5.0/5.7L Chevy 1994-1995, Full-System
Closed Cooling System, Mercruiser - 4.3/5.0/5.7L Chevy 2002 only, Carbureted, Full-System
Closed Cooling System, Mercruiser - 4.3/5.0/5.7L Chevy 2002-2003, MPI, Magnum, Full-System
Closed Cooling System, Mercruiser - 4.3/5.0/5.7L Chevy 2002-2012, Carbureted, Full-System
Closed Cooling System, Mercruiser - 4.3/5.0-5.7L V-8 Chevy 1997-2001, Full-System
Closed Cooling System, Mercruiser - 5.0/5.7L 305/350 1985-1994, Full-System
Closed Cooling System, Mercruiser - 5.0/5.7L EFI 350 Engine Chevy 2000-2001 EFI, Full-System
Closed Cooling System, Mercruiser - 5.7L EFI 350 Chevy 1997-2001, MPI, Full-System
Closed Cooling System, Mercruiser - 7.4L 454/502 Engine Chevy 1983-1998, Full-System
Closed Cooling System, Mercruiser - 7.4L 454/502 Engine Chevy 1993-1997, Bravo, Full-System
Closed Cooling System, Mercruiser - 7.4L 454/502 Engine Chevy 1996, Full-System
Closed Cooling System, Mercruiser - 7.4L LX Chevy 1997, MPI, Full-System
Closed Cooling System, Mercruiser - 7.4L LX Chevy 1997, MPI, Full-System
Closed Cooling System, Mercruiser - 7.4L LX Chevy 1998-2001, MPI, Full-System
Closed Cooling System, Mercruiser -4.3/5.0/5.7L Chevy 1994-1996, Full-System
Closed Cooling System, Mercruiser -7.4L Chevy Early 90's, V-Drive, Full-System
Closed Cooling System, Mercruiser -898/228/260 Engine 1970-1983, Full-System

Volvo Applications
Volvo Closed Cooling System - 5.0/5.8L Ford 1993-1996, 302/351 EFI , Half-System
Volvo Closed Cooling System - 3.0L Chevy 1994-1996, Half-System
Volvo Closed Cooling System - 3.0L Chevy 1997-1998, Half-System
Volvo Closed Cooling System - 3.0L Chevy 1999-2002, Half-System
Volvo Closed Cooling System - 3.0L Chevy 2003-2012, Half-System
Volvo Closed Cooling System - 302/351 Engine Ford 190-240 AQ Ford, Half-System
Volvo Closed Cooling System - 305/307/350 Engine Chevy, Half-System
Volvo Closed Cooling System - 4.3/5.0/5.7 Chevy 1997-2012, Half-System
Volvo Closed Cooling System - 4.3/5.0/5.7 Chevy 2000-2002, GI/GXI, Half-System
Volvo Closed Cooling System - 4.3/5.0/5.7L Chevy 2000-2012, GI/GXI, Half-System
Volvo Closed Cooling System - 4.3/5.0/5.7L Chevy 2006 & UP, GL, Half-System
Volvo Closed Cooling System - 5.0/5.8L Ford 1990-UP, Half-System
Volvo Closed Cooling System - 5.0/5.8L Ford 1994-1996, GL & GI, Half-System
Volvo Closed Cooling System - 7.4L Chevy 1989 454, Half-System
Volvo Closed Cooling System - 7.4L Chevy 1994-1997 GL, Half-System
Volvo Closed Cooling System - 7.4L Chevy 1994-1997, Half-System
Volvo Closed Cooling System - 7.4L Chevy 1997-UP, Half-System
Volvo Closed Cooling System - V6 & V8 Through 1993, Half-System
Volvo Closed Cooling System -4.3/5.0/5.7L Chevy 1994-2006, Half-System

Volvo Closed Cooling System - 307/350 Engine Chevy late 70's, Full-System

OMC Applications
OMC Closed Cooling System - 2.3L Ford 1986-1990, 229 CID, Cobra 4 Cyl., Half-System
OMC Closed Cooling System - 2.5/3.0L 120/140 Engine 4Cyl Chevy 1974-UP, Half-System
OMC Closed Cooling System - 302/351 Engine V-8 5.0/5.8L Ford Cobra, Half-System
OMC Closed Cooling System - 302/351 Engine V-8 Ford 170 to 240 all years with this HP, Half-System
OMC Closed Cooling System - 305-350 Engine V-8 185-260, Half-System
OMC Closed Cooling System - 307 Engine V-8 Chevy 215/225, 1973, Half-System
OMC Closed Cooling System - 4.3L V-6 Chevy 1986-1990, 262 CID, Cobra, Half-System
OMC Closed Cooling System - 7.5 V-8 Ford, Cobra 460, Half-System
OMC Closed Cooling System - Straight 6 250 Chevy 6 Cyl, Half-System
OMC Closed Cooling System - V-6 155 Buick, Half-System
OMC Closed Cooling System -350 Engine 5.7L Chevy Cobra, Half-System
OMC Closed Cooling System -5.0/5.7L V-8 Chevy, Cobra, Half-System

OMC Closed Cooling System - 3.8L V-6 Chevy, Pre-Cobra, Full-System
OMC Closed Cooling System - 305-350 Engine V-8 185/260 Chevy, Full-System
OMC Closed Cooling System - 305-350 Engine V-8 185/260, Full-System