Electronic Trim Indicators - Mayfair LED Trim Indicators
What is DriveSync?

DriveSync is a patent pending device that monitors the trim for twin and triple engine boats, so when the operator presses the BOTH/ALL button, it will automatically adjust the drives to be in perfect alignment, every time. You will never have to worry about how accurate your mechanical trim indicators are because DriveSync will always move the slowest drive to match the others. There are no extra buttons or complicated operating instructions, just push the BOTH button and DriveSync does the rest.

Why use it with Mayfair Indicators?

As the old adage says, kill two birds with one stone! If you are going to be installing new Mayfair Indicators, you'll already be doing the work to install a DriveSync as well. Now you can have the best indicators on the market and have your drives trimmed in perfect alignment.

We know that you may not need such an application in your boat, so we offer all our kits in both DriveSync and Non-DriveSync packages.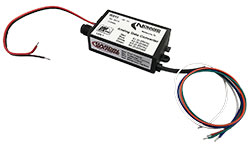 ---