Lightning Water Jacketed Freshwater & Saltwater Headers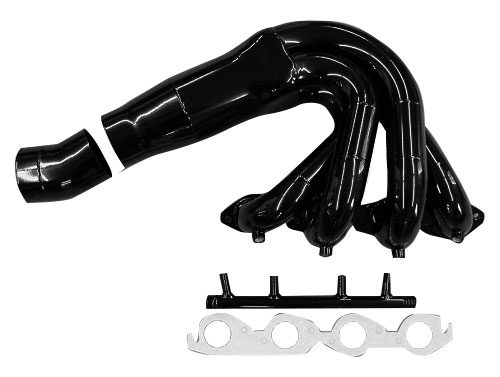 LIGHTNING PERFORMANCE
When comparing performance exhaust systems it's good to understand the different systems on the market today and the performance demands of your engine. Understanding how a header works will help you decide on which exhaust system is best suited for your application.
Headers have two basic functions. First is to simply relieve back pressure. For example, when looking at a manifold you see a 4" diameter exhaust hose, but the actual exhaust gas opening is about 2-1/2" diameter. Most performance manifolds and some header manufacturers use a 4" exhaust hose and 3" or 3-1/2" OD exhaust gas tube. All of these headers use a 4" OD exhaust gas tube and a 5" water jacket tube until the water gets introduced into the exhaust gas stream, then it gets reduced from 5" to its 4" exhaust hose diameter. At no time does the exhaust gases see a diameter smaller than 4" OD. When looking at these exhaust gas openings consider their area not their diameter. For example, a 4" OD opening has an area of approximately 12.56 sq. in. A 3-1/2" opening has an area of approximately 9.62 sq. in. That is 25% smaller! A 3" opening is approximately 7.06 sq. in. and a 2-1/2" opening is approximately 4.90 sq. in. which is 60% smaller.
LIGHTNING HORSE POWER COMPARISON
Performance figures on headers vary considerably. As a rule, the higher horsepower engines benefit more than the lower horsepower engines. For example, the 330 hp Mercury engine will gain approximately 50 to 75 rpm, where as the 365 hp Mercury engine will gain approximately 300 to 400 rpm (45 hp). Blown engines gain up to 800 rpm (80 hp). Of course this is comparing these headers against stock Mercury center rise manifolds.
LIGHTNING CONSTRUCTION
Our Magnum header starts with Mandrel bent 316L stainless steel interior tubes. The exterior tubes are Mandrel bent heavy wall steel tube (.074). The tubes are then mechanically etched by sand blasting and then assembled. Finally, a corrosion resistant silicone ceramic coating is applied to the interior of the header while the exterior receives a powder coat finish.
ALL THIS PLUS THE BEST 2-YEAR WARRANTY IN THE INDUSTRY
Click on the part number to check pricing or place an order.
Lightning Marine - Magnum Stainless Wet Header System

---

For those of you searching for a superb value in a long tube Stainless Steel header, this is it! The Magnum Stainless Steel header uses Mandrel bent 316L stainless steel on the interior and exterior tubes. The header is tig welded with a custom alloy welding rod to help prevent cracking. After assembly the entire header is stress relieved, annealed, and heat-treated to maximize its corrosive resistance. The standard finish is satin and polishing is available as an option. The system is sold with gaskets, bolts, and hardware. EFI applications require ECU reprogramming.

| | |
| --- | --- |
| Part No. | Description |
| 310-40300 | Big Block Chevy Mercury All Stainless Steel System 36" Wide Black Finish |
| 310-40301 | Big Block Chevy Mercury All Stainless Steel System 36" Wide Polished Finish |
| 310-40310 | Big Block Chevy Mercury All Stainless Steel System 33" Narrow Black Finish |
| 310-40314 | Big Block Chevy Mercury All Stainless Steel System 33" Narrow Polished Finish |
| 310-40352 | S/B Chevy 350-Larger SS System |
| 310-40309 | B/B 496 8.1L All Stainless Steel Mercury Standard Satin Finish |
| 310-40316 | B/B 496 8.1L All Stainless Steel Mercury Polished Finish |
| 310-40400 | Big Block Chevy Jet All Stainless Steel System 36" Wide Satin Finish |
| 310-40401 | Big Block Chevy Jet All Stainless Steel System 36" Wide Polished Finish |
| 310-40450 | Big Block Chevy All Stainless Steel System with Stainless Dry Tail Pipe 36" Wide Satin Finish |
| 310-40451 | Big Block Chevy All Stainless Steel System with Stainless Dry Tailpipe 36" Wide Polished Finish |
| 310-40420 | Optional Mercury Shift Bracket Provision Welded to Header |


Lightning Marine - Standard Jacketed Header

---





These headers are designed to be a replacement for Mercury, OMC or jet manifolds. However, they terminate approximately 8" aft of stock manifolds and are projected to meet the exhaust tips providing they are in the stock location. Headers will have about 1/2" clearance between header and tall Moroso valve covers. Headers come complete with bolts, gaskets, water fittings, pet cocks, etc. (less 4" hose and 4" hose clamps). Factory oil filter requires relocation.

Part No.
Description
Big Block Chevy Jet Drive 36" Wide
310-40304
Big Block Chevy 454-502 Merc 36" Wide
310-40302

Big Block Chevy 454-502 Merc 32" Wide
(Used in some twin engine applications)

310-40308
496 8.1L Mercury Standard Application
310-40330
S/B Chevy 350 Mercury 31" Wide
310-40306
460 FORD OMC Misc 36" Wide (uses billet adapters)
310-40307
460 FORD Jet 36" Wide (uses billet adapters)
310-40356
LS1 Chevy Mercury
310-40355
LS1 Chevy Jet
310-40420

Optional Merc Shift Bracket
Precision Welded to Header

310-40423

Optional EFI Module Bracket welded on


Lightning Marine - Below Swim Platform Low Port Exit Jacketed System

---

These headers are designed to be a replacement for Mercury, OMC or jet manifolds when the exhaust ports are mounted low in the boat. For example, under the swim step or when elbows are used with the stock manifolds. Headers will have about 1/2" clearance between header and tall Moroso valve covers. Headers come complete with bolts, gaskets, water fittings, pet cocks, 4" elbows for bottom, etc. (less 4" hose and 4" hose clamps). Factory oil filter requires relocation.

Part No.
Description
454/502 Chevy Low Port Headers 36" Wide
310-40312

454/502 Chevy Low Port Headers 33" Wide
(Used in some twin engine applications)

310-40332
S/B Chevy 350 Low Port Header 31" Wide
310-40315
460 Ford Low Port Headers 36" Wide (uses billet adapters)
310-40420
Optional Merc Shift Bracket Precision Welded to Header
310-40423
Optional EFI Module Bracket welded on


Lightning Marine - Silent Choice Jacketed Header System

---

Our 40322, 40324 and 40326 headers incorporate the end of the header with the silent choice valve. The 40322 uses the air operated actuators from the Mercury valves. The 40324 and 40326 uses electric solenoids supplied to operate the valves. Headers will have about 1/2" clearance between header and tall Moroso valve covers. Headers come complete with bolts, gaskets, water fittings, pet cocks, exhaust valves, 5" hose and clamps (less 4" hose and 4" hose clamps). Note: you cannot operate HP engines at high rpm's with valve shut. Factory oil filter requires relocation.


Lightning Marine - Reduced Water Distribution Header

---

Reduced water helps reduce reversion by reducing exhaust stream water. Only enough water enters the exhaust to keep hoses, etc. cool. The remainder gets dumped overboard via a 3/4" fitting at the end of header. This is the only option that will help the silent choice system. Oil filter requires relocation.


Lightning Marine - Dry Tailpipe Header System

---

Dry stainless steel jacketed tailpipes eliminate reversion totally. 4-1/2" diameter tail pipe protrudes past transom approximately 6", jacketed. Can be designed to exit water prior to transom or at end of tip. Very, very loud.


Lightning Marine - Header Options

---

Part No.
Description
CUSTOM NON-STANDARD MERCURY HEADERS - PLEASE CALL FOR INFO
This option is when a custom header has to be built to line up exhaust port locations. Alterations in height or width.
310-40412
Alter Exhaust Exit from Standard Location
PRE-HEAT ENGINE WATER OPTION - PLEASE CALL FOR INFO
The header is divided into two compartments. Water first enters bottom of headers then is removed thru 1/2" fittings at the very top. Then water enters inlets of block. This is for the uses without a thermostat.
310-40421
Pre-heat Engine Water Option
REDUCED WATER IN EXHAUST STREAM - PLEASE CALL FOR INFO
Helps reduce reversion by reducing exhaust stream water. Only enough water enters the exhaust stream to keep hose, etc. cool. The remainder gets dumped overboard thru a 3/4" dump at the end of the header.
310-40427
Reduce Water Option
CUSTOM POWDERCOAT COLORS - PLEASE CALL FOR INFO
310-40500

Custom Color Option To Header