Thermostatically Controlled Remote Mount Oil Filter Heads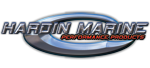 While every high performance engine obviously needs adequate oil filtration, Hardin Marine has taken it one step further. The all new "Xtreme Thermostatic Oil Filter" combines remote mount engine oil filtration with a built-in oil thermostat that automatically controls engine oil operating temperatures. This two-in-one package eliminates the need for a single function remote oil thermostat. Constructed from 6061-T6 billet aluminum this assembly is available with a horizontal or vertically mounted cylinder head bracket with a unique 360 degree clocking to accommodate multiple oil line plumbing situations. The addition of multiple oil pressure and oil temperature sender locations also allows for this wide range of indexing positions. Large 3/4" NPT inlet and outlet ports provide high volume oil flow that will satisfy the most demanding engine applications.
REMOTE THERMOSTATIC FILTER OPERATION *FACTS*
Maintaining proper engine oil temperature has become critical to the success or failure of today's performance marine engines. Prolonged use of marine engines in conditions where oil cannot reach its optimum working temperatures will result in sludge formation and crankcase dilution which leads to excessive wear especially in the cylinder bores and bearing surfaces. A thermostatic filter assembly combats this by permitting 90% of the engines oil to bypass the cooler during warm up. The balance of the oil flow is allowed to flow through the cooler maintaining constant pressure and preventing air pockets while eliminating cold oil shock. As engine oil temperature increases the percentage of oil flow is then regulated to maintain optimum oil temperature. This reduces scuffing and premature wear and inhibits engine blow-by. As engine oil temperature reaches its optimum operating temperature moisture and impurities that often cause a milky condition are eliminated. A remote engine oil thermostat also facilitates mounting of additional oil pressure and temperature switches.
Click on the part number to check pricing or place an order.
Horizontal Head Mount Thermostatic Oil Filter Mount

---

NOTE:Filters sold separately.

Part No.
Description
625-7701
Horizontal Head Mount Thermostatic Oil Filter Head
For HP4 or HP6 Filter, Polished

Vertical Remote Thermostatic Filter Mount

---

NOTE:Filters sold separately.

Part No.
Description
625-7713
Vertical Remote Thermostatic Oil Filter Mount
For HP4 or HP6, Polished

Vertical Head Mount Remote Thermostatic Filter Mount

---

NOTE:Filters sold separately.

Part No.
Description
625-7711
Vertical Head Mount Remote Thermostatic Oil Filter Mount
For HP4 or HP6, Polished